Top-Rated Commercial Roof Installation in Charlotte, NC
Is it time to invest in a new roofing system for your commercial building? The most important day in the life of any roof is the day that it is installed, and the most important aspect of that day is who installs it. The proper components installed correctly play a crucial role in the performance and overall lifespan of your new roof. When costly roof repairs repeatedly appear on your monthly capital expenditures report, than there is a good chance your roof is failing and may never have been installed correctly to begin with.
At Liberty Roofworks, our highly trained and qualified team of roofing specialists are not only professional and dependable, but we are known for our extensive experience and affordable problem solving strategies. We specialize in commercial roof installation in Charlotte, NC. Our commercial roofing installers are among the best in the Charlotte area, and for this reason we can proudly declare that we are known for our ability to deliver the highest levels of quality and the greatest return on investment for our clients.
No two roofs are the same, and this is true of commercial buildings as well. At Liberty Roofworks we custom tailor our roofing proposals to meet your exact needs and budget criteria.
You have a lot of options to choose from today and we embrace both the time tested and proven traditional options as well as the latest advancements in material technology and applications. We present all of your options to you based on your goals and budget so that you can rest assured you are getting the absolute best in quality and affordability.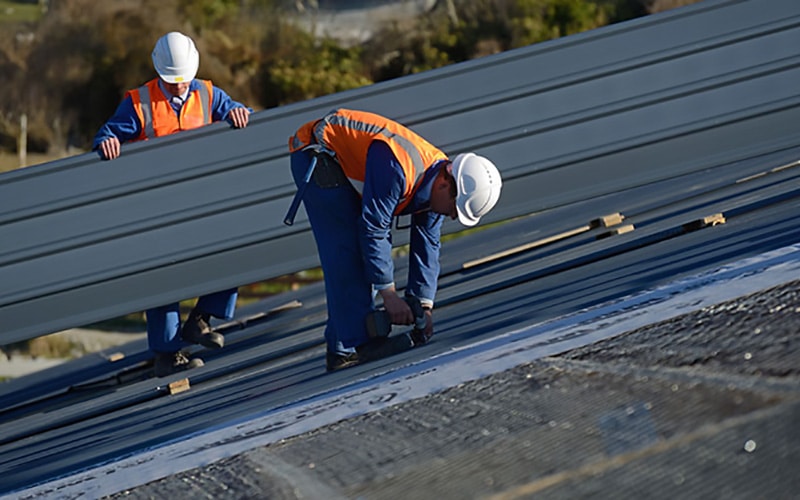 We don't ever cut corners and we're not a fly by night contractor. Our reputation has been established by putting our clients' needs first and delivering the very best in quality and craftsmanship. We have a saying Liberty Roofworks; You'll be happy when we're done, if you're not happy, we're not done!
If you need to know more about your current roof and what your options are, Liberty Roofworks is here to help. Please call us today at 704-463-8177 to schedule a free on-site needs assessment with one of our Expert commercial roofing specialists. Rely on us for your commercial roof installation in Charlotte, NC.
There Are Many Options to Choose From
Many commercial roofs are flat roofing designs, and others have a low-slope commercial roofing system. Both flat and low-slope roofing systems are very energy efficient and serve as a safe and convenient location for heating and cooling equipment. Most commercial buildings have flat roofs for these reasons. Flat roofs have the best design parameters and configuration details to compliment commercial roofs today.
Despite how many flat roofs exist today, however, the installation of this roof type can be complicated. It's crucial to ensure that the commercial roofing contractor that you hire is licensed, experienced, and reputable for this sort of project. At Liberty Roofworks we train our team members relentlessly to ensure that our clients receive the best service and the highest level of installation craftsmanship. This ongoing development program for all of our contractors is the backbone of our reputation and is the reason we have a culture of innovation always utilizing the latest tools and techniques to achieve the highest level of quality.
Take a look at all of our roof types to see which system you feel may be the best fit for you. Do you need a roof that prevents water damage and leaks? Or are you more interested in lowering your energy costs? We never cut corners on product or craftsmanship and we use state of the art technology and tools, and yet, we do all of this with affordability and competitive pricing in mind.
 Get Your New Commercial Roof System
It's important to know that our team of expert commercial roofing specialists are equipped to handle non-traditional roofing systems as well. If you have an unusual design or complex roofing challenge you can trust that Liberty Roofworks is equipped to provide the best guidance and affordable solutions to meet your needs.
Regardless of the roof type you are interested in, or what the building requirements are for the roof, Liberty Roofworks can assist you in designing the optimal solution. Please call us at 704-463-8177 or fill out the contact form and we'll reach out to schedule your free no-obligation consultation. This meeting is your chance to share all of your thoughts and for us to put them down on paper, inspect your current roofing system and requirements, and together we can work to design a system that meets all of your needs.
When it's your commercial roof, you deserve nothing less than the best roofing company that is dependable. There is no better choice for commercial roof installation in Charlotte, NC than Liberty Roofworks. Contact us today!