The Premier Contractor for Siding Installation in Charlotte, NC
When you install new siding it's like you're getting a completely different home at the same address. When a new coat of paint won't do the trick any longer, it may be time to update your homes exterior. Siding products have evolved tremendously, and they are now more energy efficient and beautiful than ever. If you are thinking of taking your homes curb appeal to the next level, you may want to consider replacing your homes siding.
The easiest and most effective way to improve the appearance of your home is to get siding installation in Charlotte, NC. Over the years as your home endures the wrath of Mother Nature and a relentless beating from the sun your siding gradually breaks down and begins to fail. The best way to fix this problem is to invest in qualities citing products that are designed to last protect your home from water damage, fires, hail, wind, and other weather elements.
It's no secret its new siding is the quickest way to makeover your home, improve curb appeal and debt security, however installation should not be allowed without the help of an expert siding contractor. The most expensive mistake any homeowner can make is to put the wrong product on your home. A licensed siding contractor has the necessary tools, equipment and experience to ensure that your new siding performs for many years to come.
At Liberty Roofworks, we offer many siding services. With hundreds of color options and materials the most difficult part of the process is narrowing down what you love the most. Our dedicated team of siding professionals help you streamline this process and custom tailor a new siding system that is guaranteed to fit your needs at a fair and affordable price.
Please call us today at 704-463-8177 for a free no obligation consultation. We will conduct an on-site needs assessment thoroughly evaluate your home and every option available to you, will show you samples, will show you literature, and provide you an accurate quote down to the penny of what you will need to budget if and when the time comes for you to replace your siding.
Popular Siding Options
During our complementary starting consultation appointment we will show you all of the options available to you. Although the primary focus of liberty roof works is not siding please don't be fooled we offer the finest siding products available in the market today at fair and affordable prices.
When you get working professionals to install the siding you'll have hundreds of options to enhance your home and we guarantee your complete satisfaction. Liberty Roofworks offers products to fit every budget and improve the appearance of your home. Get professional siding installation in Charlotte, NC today.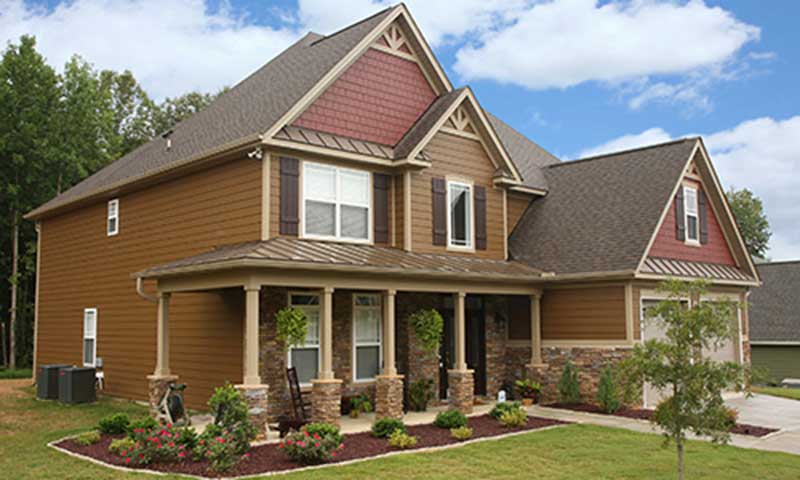 Our options include:
Vinyl Siding
Vinyl siding is the most common product in the market today, because it can be installed almost anywhere and it's relatively low cost. Vinyl siding has evolved significantly over the years there are now many different styles and thicknesses to choose from.
 Steel Siding
Steel siding is a fantastic option if you want something sturdier than vinyl. Though, it is more expensive and could potentially be dented if it hard enough, it is rarely damaged. It also has outstanding water shedding and fire resistant characteristics.
 Hardboard Siding
Hardboard siding offers beauty of traditional wood, but the durability of engineered wood similar to fiber cement. It uses superior exterior grade resins to create a very strong bond within the product. This helps it withstand extreme heat, cold, rainfall and humidity.
 Fiber Cement Siding
James Hardie siding, or more commonly known as Hardie Board, is one of the top siding products to use. It is almost 5 times thicker than vinyl and resistant to hail damage. It can also withstand winds up to 150 mph. It is an engineered product similar to hardboard, though uses a composition of cement fibers instead of wood. It is completely fire resistant, impact resistant, rot resistant, resistant to wind, hail, rain, snow, and sun. It is also easily painted and comes with a 30-year warranty.
Learn more about siding installation in Charlotte, NC with our knowledgeable team.
Signs You Might Need a Siding Replacement Company
 Warped Siding
Wood expands and contracts and in this process over the years it starts to warp, this is a leading indicator that you need new siding. Once cracks start to form it's only a matter of time before water problems or termite issues begin to arise. By applying some pressure to these areas, you can test whether or not the material has been eroded by moisture or pests.
 Rotted Wood
Wood that is consistently exposed to moisture rots over time, however wood can also dry rot, which is much harder to evaluate. Dry rot means that the inner wood structure rots, but leaves the surface intact having the appearance of healthy siding, when in fact it's not. A certified siding professional will inspect for this during a diagnostic inspection of your siding.
 Mold & Mildew on Interior
If you see water on the interior of your home around doors, windows, and floors or ceilings on lower levels this typically means that your siding is no longer stopping water from getting into your home. Peeling paint or wallpaper, mildew and even mold are all indications of serious moisture infiltration problems. If the interior of your home is showing severe damage, imagine what is occurring inside your walls.
If you are experiencing any of these issues or would simply like to update the look of your home, it's best to consult with a licensed professional that can perform mitigation testing and provide you will the many options available to you.
Call Liberty Roofworks if you have questions about your siding. We will send a skilled expert to perform a thorough evaluation.
Choose Liberty Roofworks for Your Siding
There's are many factors when choosing a company to partner with for any home improvement project, here are a few of the most important:
Do their services meet your budget?

All so often we will forego updating the exterior of our home and focus instead on interior improvements that we get more personal use out of. However, nothing transforms the curb appeal of your home more than siding, not to mention that it also improves your homes protection from the elements, provides for greater energy efficiency, and increases your homes resale value.
At Liberty Roofworks, we custom tailor a solution to fit your budget and at the same time ensure that you are getting the finest quality materials and installation.
Local Partnership
We are not a fly by night contractor, here one day and gone the next. We do not write taillight warranties; you know the warranties that are only good if the contractor's taillights are still in view. At Liberty Roofworks, we are a local business in the Charlotte area proudly serving our community. The big box stores and national brands just can't provide the unique one on one service that Liberty can. Our craftsman and team of siding experts adhere to the strictest guidelines of professionalism. Plus, as a small business, we're not in a corporate office skimming over a customer satisfaction report for the tri-state area, instead we are at your home, on your property, ensuring your happiness.
 Customer Service
We are obsessed with World Class Customer Service. We have a saying at Liberty; "You'll be happy when we're done, if you're not happy – we're not done! After all, we are a local, North Carolina based siding company and we are committed to the Charlotte area community. We measure twice and cut only once, we accomplish this by thoroughly evaluating every home top to bottom and take careful notes and measurements to ensure that our solution is the absolute best fit at the most economical price. We leave no stone unturned during the installation and keep you up to speed every step of the way. Siding replacement projects are messy, so we clean up at the end of each day – that way your yard never looks trashed.
Are you ready for a home makeover? Give us a call at 704-463-8177 to discuss siding installation in Charlotte, NC today and we will schedule your free no-obligation consultation appointment with Liberty Roofworks.