Flat roofs can be found on both homes and commercial buildings. In fact, most commercial buildings have flat roofs. Roofs with a normal or traditional slope are designed to have water safely flow off of it to the ground. Flat roofs on the other hand do not have this. Instead, water frequently pools up on the roof and can sit there for periods of time. More traditional roofing materials such as shingles cannot handle this type of sitting water and will end up destroyed. That is why membrane roofs such as TPO roofing are used on flat roofs since the water will not harm them.
It is safe to say that flat roofs such as TPO and other roof types play a very important part in keeping any building safe. If any issues with the roofing material were to arrive, you could be looking at some serious water damage and maybe even need a whole new roof installed. Today we will be talking all about flat roofs and some of the different ways that flat roofs can be repaired. It is super important to know what to do should your roof take on damage and what your first steps should be.
At Liberty Roofworks we believe that all homeowners and business owners should have easy access to reliable and up-to-date roofing information. That is why we created our Learning Hub where we post new roofing-related content every week on a variety of different topics. With a new roof being such a big investment, it's important to know what you are paying for and what your options are.
Educating yourself on the world of roofing will not only prevent you from being scammed by not-so-great roofers, but it will also help you make better-informed decisions for your home or business. We have multiple articles already listed about flat roofs with more helpful information. Check it out for yourself! 
Finding roof damage
When it comes to finding roof damage there are two main ways. The first is you notice blatant roof damage to your building whether that be from the inside or outside. The second is by hiring a professional to come to inspect your roof. It is always best to hire a roofing professional who is both local to your area and also has experience working with flat roofs.
Professionals are trained on what to look for and they can find areas with issues that the untrained eye would overlook. That is why we do not advise that people go on their roofs themselves and perform an inspection, as things can easily be overlooked. When issues get overlooked, it leads to much worse damage and much more money spent down the line.
If you think that your roof may be damaged, never hesitate to have a roof inspection done. It is always better to be safe than sorry, and routine roof inspections help catch any damage early on. If any damage is found, it is important to address it right away so that it does not spread and cause more issues.
Repairing a flat roof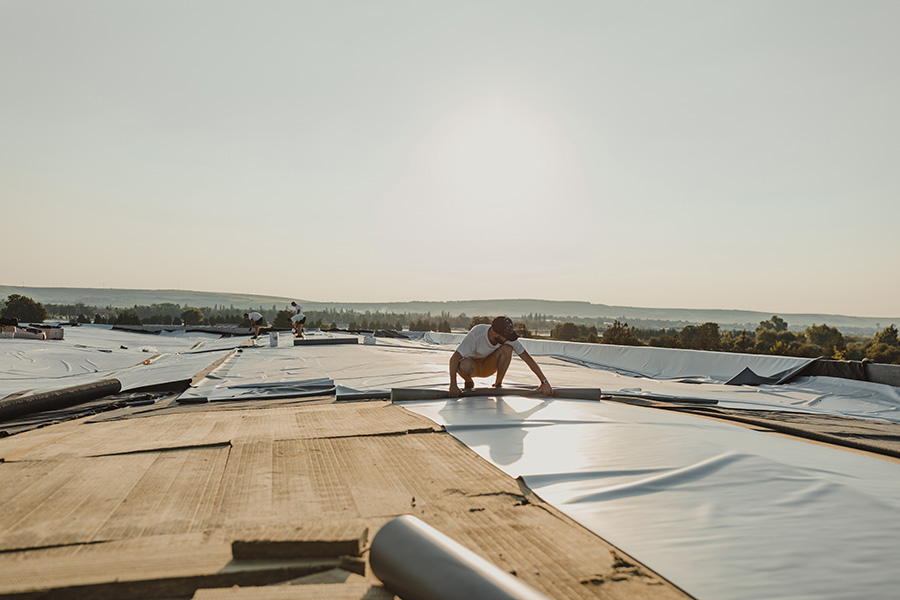 Once any roof damage is found it is time for the repairs to begin. All repairs are slightly different depending on what type of roofing material your flat roof uses. Each roofing material may require slight changes in the way they are handled. To get the most accurate information about your specific situation, talk to your roofer beforehand so you know what is going on.
Not only do we suggest having a professional roofer check your roof for damage, but for repairs too. It may seem tempting to fix your roof by yourself, but any errors can lead to major consequences. Flat roofs in particular require a special set of skills that is required for a successful roof job. With an investment as big as a roof, it is always best to leave everything to the professionals as they are trained and you will be protected by a warranty should any issues arise.
Each roof and situation is different. Some repair jobs may only take an hour while others may take up to a couple of days. If your membrane roof is coming apart at a seam you may just need some extra adhesive added. If a storm causes debris to damage a larger section of your roof, a partial replacement or more invasive repair job may be needed. The amount of damage and the location of the damage will determine how it gets taken care of. Sometimes the damage goes unnoticed for too long and the insulation gets exposed and overly saturated. In this case, a full replacement is likely needed. Each repair is different and will require a different approach.
The lifespan of a flat roof
Flat roofs can last up to 25 years assuming they are properly installed, maintained, and no major damage occurs. We always recommend having at least two routine roof inspections done every year. Routine inspections allow you to catch any damage or issues early on, meaning the chances of it getting completely out of hand is much lower. 
Aside from roof inspections, the only other maintenance really needed for most flat roofs is a routine cleaning. The cleaning itself does not entail much, just a sweep of the roof so that any debris or dirt is removed. As long as both of these two steps are done, you should be in pretty good shape.
Remember, this only works if your roof is properly installed. You are almost always going to have either issue arise or a shorter roof lifespan when it is installed by someone who is not a professional. To get the most out of your investment, hiring a professional is the way to go.
Wrapping it up
Flat roofs are very different from traditional roofs in the way they function and look. Membrane roofing materials have made flat roofs possible thanks to their water resistance and unique abilities. Remember, if you ever find yourself having work done on your flat roof, be sure to hire a professional with experience working on flat roofs. With so many different repair methods out there, it's hard to predict which ones your roof would have done should damage occur. Most of the time it comes down to what preference the roofer you hire has. The best way to know what repair method would be used for your roof is by contacting your roofing company directly.
We hope that this article helped you learn more about flat roofs and what to do should you find or suspect damage. To learn more about flat roofs and their roofing materials check out our Learning Hub!
We are here to help!
At Liberty Roofworks we understand how important a roof is to a home or business, and how big of an investment it is. That is why we are committed to providing only the best roofing jobs and take what we do very seriously. Whether you need a repair or a replacement, we got you covered.
At Liberty Roofworks customer satisfaction is our number one priority. We value open communication and we always want our customers to feel comfortable talking to us. That is why we are more than happy to answer any questions that may come up at any point in the process. We even make an effort to update our customers during the roofing process so that they are never left in the dark.
We are a family-owned and operated business with over 20 years of professional roofing experience. No job is too big for us to take on, and we have lots of experience working on both residential and commercial flat roofs. All of our roofers are professionally trained, licensed, and insured. We have proudly served all over the state of North Carolina since the beginning, and  that is not slowing down any time soon.
If you or someone you know is in need of any roof work, contact us today! We would be more than happy to schedule an inspection of your roof where you can then ask any questions you may have and go over the next steps. Roof work does not have to be a stressful thing that is dreaded. With us, roofing is easy!
Frequently Asked Questions about Flat Roofs
It is normal to have some questions, so we wanted to share our most commonly asked flat roof-related questions along with our answers! If your question is still not answered please contact us and we will answer it directly.
Q: What are the most popular flat roof materials?
A: The two most commonly used materials for a flat roof are TPO membrane and EPDM membrane.
Q: How often should I have my flat roof sealed?
A: Having it resealed every 5 years is best for safety measures, however, some sealants can last up to 10 years before needing to be replaced. 
Q: Can I install a new membrane roof over my existing one?
A: While you technically can do this, we strongly advise against it. Having only one roof is always the best option as there are fewer opportunities for things to go wrong. Plus, the original roof will have to be removed eventually anyway, so it is better to get it done now.