Did a recent severe hail or wind event affect the area you live in and cause damage to your roof? If the answer is yes, then you will need to prepare yourself for the insurance claims process for a new roof.
Your insurance agent and claims processing staff will guide you through their procedures, however, I will share my thoughts with you from the perspective of a Licensed General Contractor and Licensed Insurance Adjuster.
The team at Liberty Roofworks has been doing insurance repair and replacement in the Charlotte Area for 15 years. Our approach is simple, we ensure that your home is restored to its original condition or better. We are careful to ensure that each line item in the insurance scope of loss is accurate and accounted for. At the end of the day, you are our customer, not your insurance company.
After reading this article, you'll know how insurance companies generate a dollar amount for your loss, the roofing insurance claims process, and why it's critical for you to have full transparency with your contractor during this process.
How did my insurance company create a dollar value for my loss?
Like everything today, there's an "app" insurance companies use to come up with a monetary value for damage to your home. There are actually a few, but the most popular by far that is used by both Insurance Carriers and Contractors, is Xactimate.
Xactimate has been around for a long time, and they update pricing by zip codes monthly to ensure that the latest updates in material and labor pricing are accurate and reflect the current market. We find the largest variation in pricing locally at the North Carolina / South Carolina border.
What is the process for an insurance claim on my roof?
If you think your roof was damaged by a bad storm, the first thing you should do is contact your homeowner's insurance claims department to file a claim. You'll need to set aside about 10 minutes of time to share some basic information with them over the phone. Once they have the necessary information, they will assign an adjuster to your claim to visit your home and inspect the damage.
In North and South Carolina, insurance companies typically request that you have a contractor perform an inspection before you file the claim.
If your home is paid off then it's likely you are eligible for an Actual Cash Value policy, and if you have a mortgage, it is likely that you are required by your lender to have a Replacement Cost Policy, here is how they both work:
Actual Cash Value (ACV): This is the actual value of your current roof including factoring in its age. Depreciation is applied and every year the value of your roof is slightly lower than the year prior. Ultimately this means that the insurance company will not pay the full value of a new roof at today's cost, but instead will only pay the amount that your current roof is actually worth.
Replacement Cost Value (RCV): RCV policies include all the costs associated with replacing your roof at today's market value of a brand-new roof. These policies pay much higher than ACV policies, especially on older homes. Upon claims approval a check is sent for the ACV amount less your deductible. The balance is referred to as recoverable depreciation – this value is the difference between the depreciated value of your current roof and the cost to replace your roof in today's market.
Recoverable Depreciation: This is the final payment that the carrier issues to you. These funds are made available to you only after repairs are complete and receipts for payments made to contractors are provided. In the Carolina's you typically have 1 year to complete repairs to collect the recoverable depreciation. If you do not have the repairs completed, then the insurance company does not owe payment for recoverable depreciation.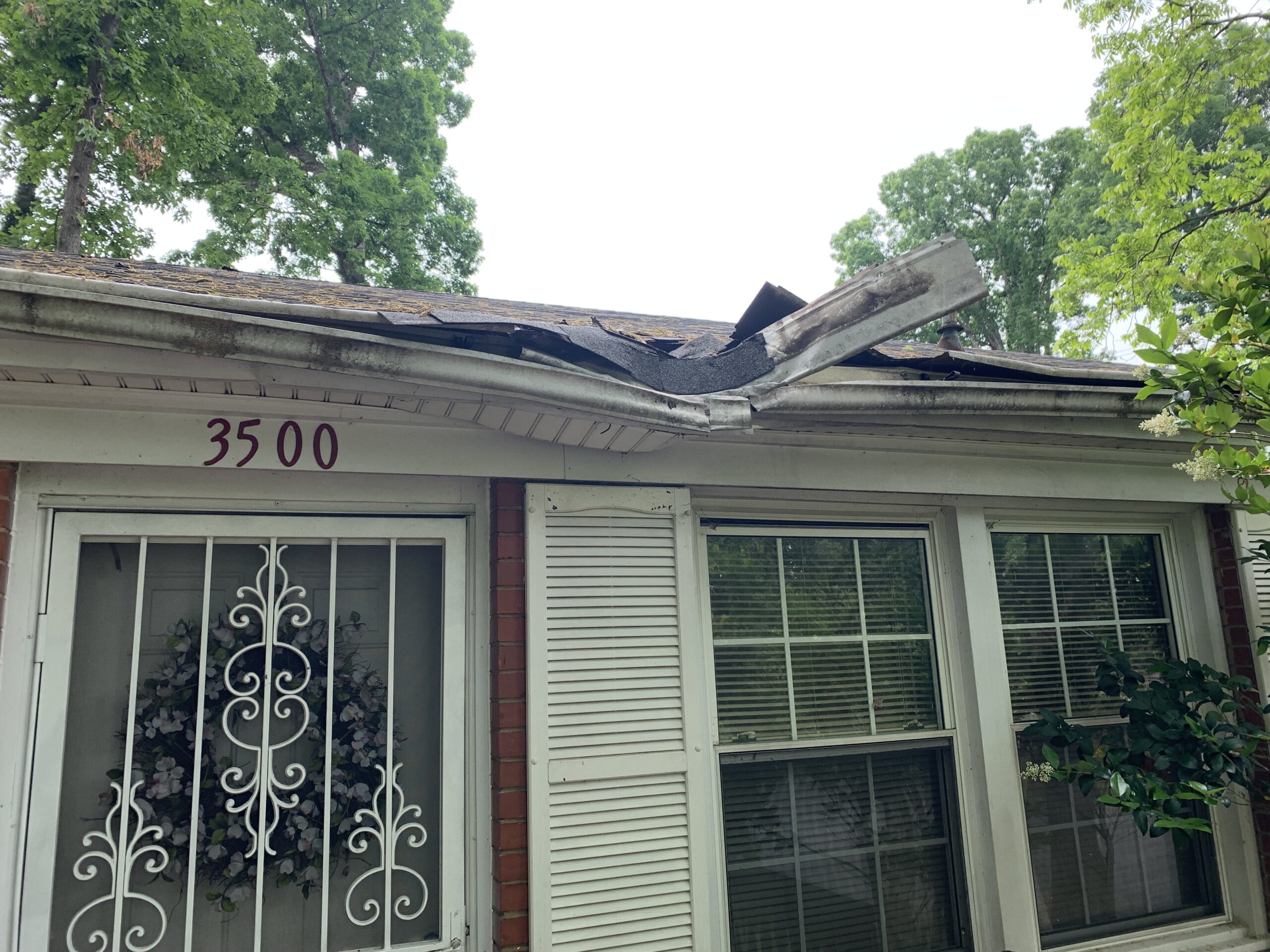 Why is it important for my roofing contractor to supplement my claim?
With your insurance carriers estimate and initial check in hand, you're now ready to find the right local roofing contractor. Often homeowners feel a sense of responsibility to get multiple estimates, but since insurance is paying for this the best thing you can possibly do is find a reputable company that you trust that has experience in dealing with insurance claims.
Since the goal is not to get the cheapest roof possible you can now shop for a company that doesn't cut any corners.
A great place to start is by simply asking perspective roofers – "Do you typically supplement insurance claims?" This question cuts to the chase and tells you if they really know what they are doing or not. If they say yes then it is safe to say that they have extensive experience, if they say no, you'll need to continue your search.
Most insurance claims need to be supplemented. As a contractor and as a former insurance adjuster I have first-hand experience with thousands of claims. It's nearly impossible for an adjuster to know every municipal requirement and every technical installation detail required. Instead, they go by a rudimentary set of guidelines and treat every home as if it were the same as the last. This cookie cutter approach helps them to be consistent and remain productive, but it would be a great disservice to you, the homeowner if your roofing contractor did not work directly with your insurance carrier to address missing line items on the scope of work.
For every roofer who will take the time to carefully ensure that the claim is handled properly, there are 10 who view this as a waste of time, and they'd rather just leave the extra line items out, so they don't have to do the extra paperwork and manage the additional project scope.  
When a professional roofer supplements the claim, they are ensuring you that your home will meet current building codes and will be put back together just like it was when it was new. These additional details are often related to local building code, roof components like flashing or low slope underlayment are critical components of your roof that the adjuster usually leaves out.  The supplemental payment will add additional line items to the insurance estimate and will be paid on a second supplemental insurance payment to you the insured.
Therefore, it is so important to be transparent with and trust the contractor that you hire, you are entrusting them not only to put a roof on your home, but to help assist you through the entire claims process including negotiating a scope of work that is fair and accurate. Once your roofing contractor agrees on scope of work and pricing with your insurance carrier, they will be ready to begin working on restoring your roof.
On all RCV homeowner's insurance policies the insurance company requires proof of completion of work and copies of receipts to release payment of recoverable depreciation. After supplying the insurance company with proof that the scope of work was completed in accordance with the scope of loss and agreed upon estimate you will receive payment for the recoverable depreciation of the old roof and you will already be enjoying your beautiful new roof that you won't have to ever worry about again.
Since you are now more familiar with the roof storm damage insurance claims process, you'll need to understand more about why it is important to share your insurance paperwork with your roofing contractor.
Why is it important to share insurance paperwork with my roofing contractor?
Once your claim is approved, you'll discuss the project with your roofing contractor to go over your many options and to ensure the correct scope of work for you and your home. During this visit your roofer will ask to see the insurance loss report.
It's common for homeowners to think "why does my roofing contractor want to see my insurance paperwork?" The reason your roofer wants to see your claim documentation is because it contains critical information that is needed to ensure they complete the work properly.
The only documents that the roofer wants to see is anything pertaining to your claim after it was approved. Typically, on the common homeowner's insurance policy, it will include an Xactimate line-item detail with ACV and RCV values and summary pages.
When you are transparent with your roofer and you share this information with them they can help you to ensure that missing items are added, it protects you from insurance fraud, helps to build trust, and your insurance company will even encourage you to share these documents with your roofer.
Allows your contractor to know the scope of work required
If you don't show your roofer your insurance scope of loss, he or she may not even know you have an insurance claim. One common problem I see regularly is that retail estimates for roof replacements are always higher than what insurance companies are willing to pay initially. When the cost of work is greater than the estimate, the homeowner typically keeps getting estimates until they find a contractor whose price is low enough that the claim will cover their cost. This process is a race to the bottom.
Why is my insurance payment for my roof replacement too low?
Oftentimes adjusters leave off items that are required by code. If your policy has law and ordinance in it (building code upgrades), which most policies in the Carolina's do then you are entitled to funds to ensure that your roof replacement meets today's building code standards. This includes attic ventilation, kick out flashing, valley linings, soffit ventilation, underlayment, and many more common roofing items. When an adjuster omits these items then it only seems to reason that a roofer's estimate is going to be higher than the insurance company's initial estimate.
When you work side by side with your contractor you ensure that your get precisely what is needed to restore your damaged roof and that the insurance company will be liable for these payments so that you do not need to come out of pocket for the upgrades. If your contractor does not see the documents from your insurance carrier then they won't know what the insurance company has scoped to be completed or how much they are allowing for in terms of payment.
Prevents you from unknowingly committing insurance fraud
If you have an RCV policy, when you share your paperwork, it can relinquish you from being responsible for committing insurance fraud. When a contractor submits an invoice lower than what insurance agreed to pay, you can't pocket the "leftovers".
To receive your recoverable depreciation payment, the items that were in the insurance company's scope of loss must be identical to the contractor's work product and final invoice so you don't or your contractor don't inadvertently commit insurance fraud.
For this reason, most RCV policies require a certification of completion prior to releasing final payment of recoverable depreciation. If you request payment, but a portion of the work is incomplete, your insurance company won't make your life easy.
Establishes Trust
Like I mentioned previously in this article, it's senseless to get multiple estimates.
When your roofer can shift from sales mode to work mode, they can focus more clearly on delivering the best quality renovation for you as quickly as possible. This also means that your contractor has no incentive to sell unnecessary upgrades or make promises they can't keep. This establishes trust between you and your roofer.
Mutual trust is the foundation of a healthy relationship between you and your roofing contractor and ensures that the job is done correctly the first time. They trust you for showing them the details of your insurance claim and you trust them for being honest and breaking down your claim properly.
When you share your insurance paperwork with your roofing contractor, not only is trust established but a partnership as well.
Insurance companies tell you to
Some insurance carriers require you to use "their contractor", but normally you can choose whom you would like to hire. If you get to pick your contractor, then most insurance loss paperwork states in the fine print something to the effect that you should share the claim paperwork with your contractor.
For example:
Liberty Mutual Insurance: "We encourage you to work with the contractor of your choice in completing the repairs to your home. If you or your contractor has any questions about this estimate, please contact me at the number shown above."
Travelers: "Therefore, you and/or contractor should review this estimate carefully and let us know immediately if you have any questions prior to beginning any work."
Erie Insurance "Please show the contractor a copy of our estimate so that they may call us should they have any questions."
If your insurance company instructs you to, then it's safe to assume you should share your insurance paperwork with your contractor. Remember your contractor is on your side. Work with them by sharing all your claim paperwork.
Hire a roofing contractor who knows how to handle insurance claims.
After going through the storm damage insurance claims process and sharing your insurance paperwork with your contractor, you are now ready to begin the process of getting your roof repaired or replaced. If you are getting a replacement, be warned, your homeowners insurance won't cover an improperly installed roof.
Now that you know how the process works, you're ready to hire a roofing company. When searching for potential roofers, it's critical that you find someone with extensive claims experience.
This breakdown of the process and all the interrelated procedures clearly show why this is so important.
Since 2011 the team at Liberty Roofworks has been assisting clients in the greater Charlotte area with their storm-damaged roofs for nearly 15 years. We pride ourselves on providing our clients the highest quality roof their estimate. If you're local to Charlotte, don't hesitate to contact us today so we can take care of your storm damaged roof.