The Premier Contractor for Metal Roofing in Charlotte, NC
If you pay careful attention, you will notice that metal roofs are everywhere around Charlotte, NC. Charlotte metal roofing is now even being fabricated in profiles that resemble slate, shake, and tile. The reason metal is so popular is due to its durability, ease of maintenance and energy efficiency.
There are hundreds of options to choose from when it comes to style, profile, and color. Metal is so versatile that it can be used in agricultural, commercial, and residential roofing. There is a long list of benefits that metal roofing can provide, so if you are adding a new roof or considering replacing your roof you will need to review your metal roofing options before making any decisions. If you have any questions about Charlotte metal roofing feel free to contact the professionals at Liberty Roofworks at 704-463-8177 today.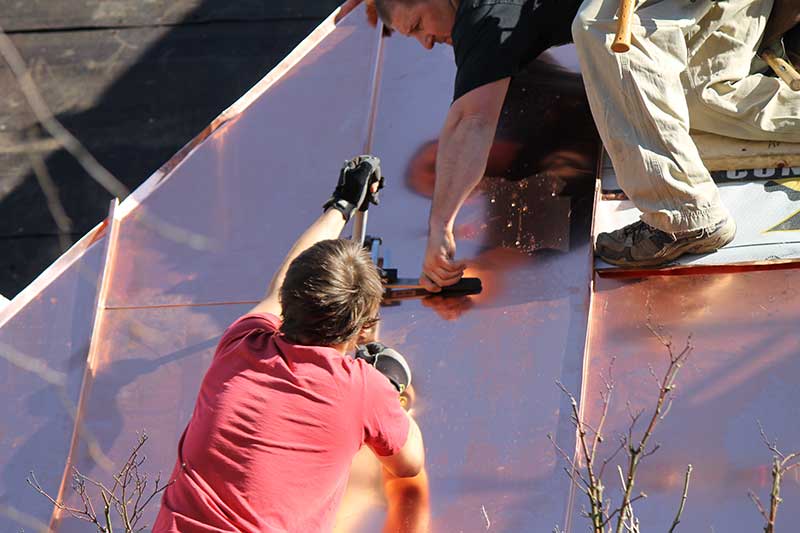 Types of Metal Roofs
 There are many different types of metal roofing. One of the things that our customers appreciate is that metal can be custom tailored for use on nearly every component of the roof. The materials that are used to manufacture metal roofing are:
Steel
Zinc
Copper
Aluminum
The two most popular types of metal roofs are standing seam roofs and corrugated roofs.
Not all metal roofs are created equal nor are all metal roofs designed to perform the same, it's important to discuss these differences with a licensed roofing contractor in Charlotte, NC to understand which options make sense for your home. Despite the complexity and varying degrees of quality and metal roofing, it still has many advantages over other types of roofing and is an excellent choice.
Why Use Metal Roofing?
 At Liberty Roofworks we are passionate about metal roofing and love installing them for our clients. We would like to share with you a few of the outstanding benefits metal roofing can provide. Knowing what metal roofing provides will help you to make the right decision.
LONG-LASTING
Metal roofing lasts for decades. We often find metal roofs from a bygone era that are still performing and around the Charlotte area. If a metal roof is maintained properly you will likely never have to replace your roof again.
DURABLE
When we say that metal roofs are as tough as steel, we mean it. They hold up well to everything mother nature throws at them including rain, snow, hail, high winds, mold, and mildew. It has a much greater resistance to damage from tree limbs, debris and animals. The extreme weather that we experience in the Charlotte area is one of the reasons that we recommend metal roofing to each of our clients.
 EASY TO MAINTAIN
If it were possible to set it and forget it on any roof metal roofing would be the one. Of course, regular maintenance always comes into play, but with metal roofs upkeep is very limited, especially compared to all other types of roofs.
ECO-FRIENDLY
Metal roofing is environmentally friendly because it is recyclable. Metal roofing is also eco-friendly, because it does not release any chemicals over time like asphalt shingles do. Often time homes situated directly adjacent to a lake or other waterway are not permitted to use asphalt shingles for this purpose.
GREAT VALUE
 Metal roofs do require greater financial investment in the beginning, but they do cost less than other options to own and maintain over their lifespan. When you purchase a metal roof, you're making an investment that's designed to last 60 or more years, instead of spending money on a roof that will only last 20 years. From an investment perspective most other roofs that will be replaced three times during this same 60-year timeframe will invariably deliver a much lower rate of return than 1 metal roof will.
Ask us about metal roofing in Charlotte, NC today.
Type of Buildings Using Metal Roofing
 Metal Roofs are known for being used in commercial application, but after realizing the benefits, more homeowners are getting them installed these days. The use of metal roofing is widespread, just look up and you see them almost everywhere in Charlotte, NC on: 
Schools
Restaurants
Churches
Hospitals
Hotels
Stores
Office buildings
Homes
Barns
The list goes on. Because of metals ability to protect during the harshest weather conditions it is an ideal choice for commercial property and hospitals.
Metal roofing popularity in the residential sector has increased significantly in recent years. Homeowners are seeing the value and benefit about a roofing offer. Metal can also be used as an accent to other roof types on bay windows, awnings, dormers and porches.
Metal Roofing Maintenance
Not many maintenance items exist for a metal roof, but regular inspections are required to ensure that the roof has not been damaged and to determine if any repairs or replacements are needed. Every six months metal roofs should receive the following service:
Remove all caked-on dirt and debris
Clean valleys and gutters
Remove any tree limbs or other debris on the roof
inspect for scratches, chipping, or fading
When metal roofs are installed properly, rain typically cleans most of the dirt and debris from the roof. This self-cleaning characteristic is made possible by the smooth continuous metallic surface that resists the build-up of dirt, mold and mildew.
However, light cleaning will be required occasionally, and tree limbs will need to be cut back away from the roof. Depending on the type of metal roof if there are any exposed fasteners, they will need to be inspected to ensure that they are secure and the gaskets are intact.
Metal Roofing Disadvantages
Metal roofs represent some of the highest level of quality that can be achieved but this does not mean that they don't have any problems. The following list represents some of the issues that homeowners have encountered with their metal roof.  
Higher initial cost of ownership
Excessive noise during storms
Breathability
Expansion and contraction – pinging sound
Screws becoming loose over time (corrugated style)
Paint fading (siliconized polyester paint)
Oil Canning – metal warping over time
Many of these problems can be avoided, but unfortunately that means that the initial investment increases with each of these problems you solve. Metal roofs are not for everybody, but for the discerning few who want to know more we are here for you. As your local roofing experts, the Liberty Roofworks Company is happy to discuss the many options you have and custom tailor a metal roofing system for your Charlotte, NC area home.
Get a Free Quote Today Before Making Your Decision
 Liberty Roofworks are experts with metal roofing in Charlotte, NC and can provide you with a free 21-point roof diagnostic inspection, as well as many different roof repair and replacement services that will help you take proper care of your roof. If you have questions about your roof would like to request additional information, we are here to help. Please call our professional roofing team at 704-463-8177 today.