Table of Contents
What considerations are there when deciding to repair or replace your roof
Does a repair make the most sense?
Is it time to replace my roof?
What is the next step?
Ready for a repair or a replacement?
Did you discover shingles in your lawn? How about the most often indicator of a roof failure – a leak inside your home or water stains on your ceiling?
Roof problems are not limited to these isolated events however if you've experienced any of these or other roof problems, you are certainly not alone. I've been doing this for nearly 20 years, and I have been asked many times what the solutions to problems like these are.
Each situation is unique, and the solutions can be different, however in most instances your roof can be repaired. The flip side of the equation is that on occasion, replacing your roof is the only option.
So, how do you know which option makes the most sense for you? At Liberty, we've got you covered.
The team at Liberty Roofworks has been serving the roofing needs of the Charlotte community since 2011. We focus on providing the best customer service we know how. We treat your home like it is ours and have come to be known for our quality and reliability. When you partner with us, you don't ever have to worry about your roof again.
What's the right choice for your roof – repair or replace? I will answer that question and more. The information in this article should arm you with the knowledge you need to make the best decision for you and your home.
What to Consider When Deciding to Repair or Replace Your Roof
Prior to making a final decision on whether to repair or replace your roof, it is beneficial to take a few things into consideration. Knowing the age of your roof and how long you plan to stay in your home, among a few other key factors will give you an idea if now is the right time to consider roof replacement.
How Old is My Roof?
The number one factor in determining whether your repair or replace an asphalt shingle roofing system is the age of your roof. If you don't have record of the age of your roof, don't worry a certified roofer will be able to tell you how much longer you should expect your roof to last.
Asphalt shingles have several levels of quality, the lowest is the 3 tab and in the Carolina's these roofs typically last 15 to 20 years. The better quality and higher durability architectural shingles can last up to 40 years and withstand hurricane level winds.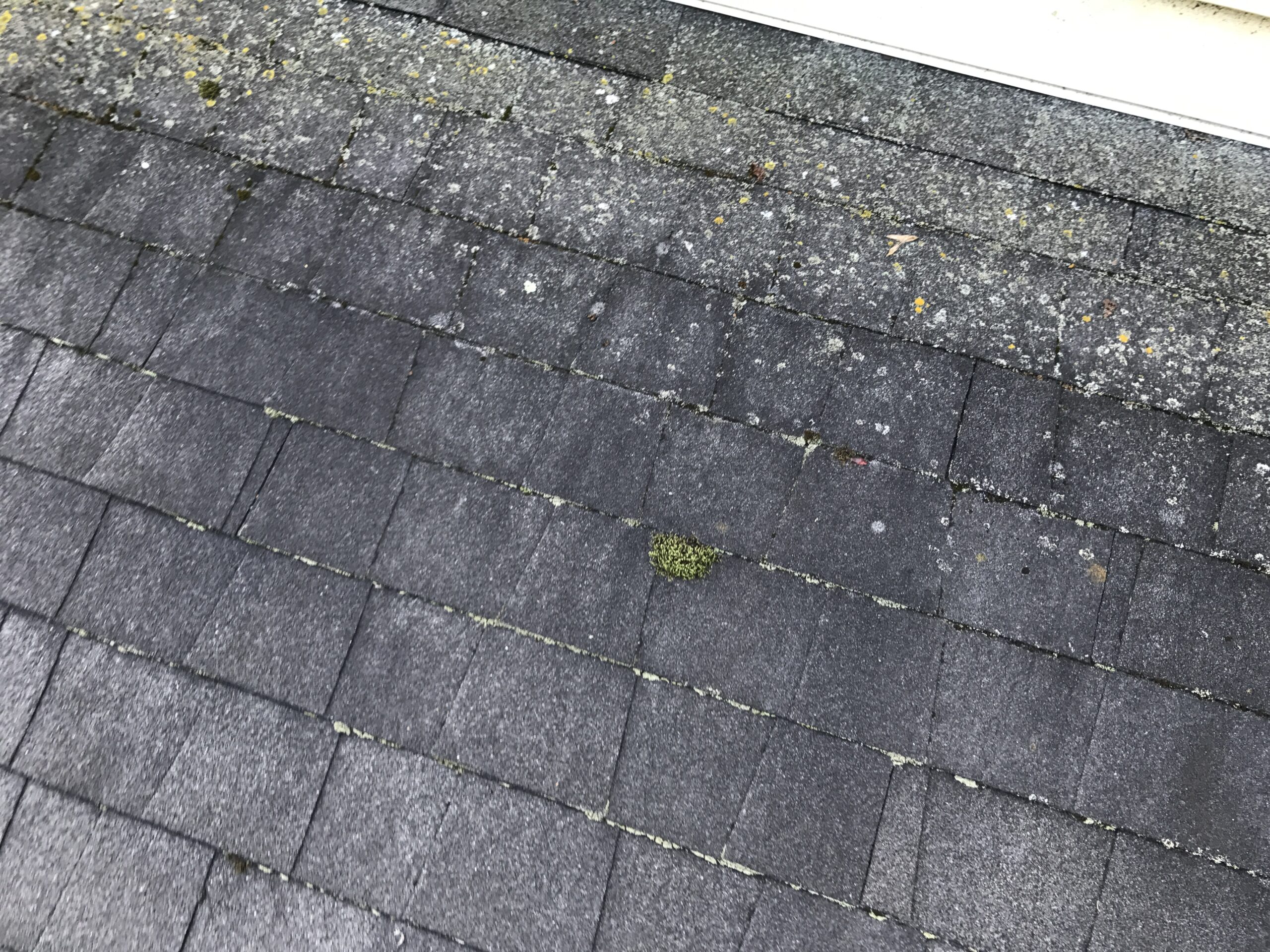 A few signs of an old roof:
Shingles curling or buckling
Shingles are bald
Shingles are missing
Roof sags in areas
Moss growth
Blistering shingles
Gutters full of granules
It's usually best to meet with several roofing companies at your home. Many times, I've heard from homeowners who were misinformed by a roofer, typically being led to believe they must replace their roof, when it only requires a simple repair. Pushy salesman will try to get you to buy a roof even if you don't need it, regardless of the age or condition of your roof.
How Long do I Plan to Live in My Home?
If you think you're likely to move at some point in the future, but aren't sure when, then it may make not make sense to replace your roof. Although – roofs often pop up on inspection reports when homes are being sold. This often becomes a price negotiation line item, of course this all depends on the age and condition of your roof.
If you are in your forever home and your roof is 15 to 20 years old, or you've had to repair it before, have a roofer do an annual inspection. A roofer will notify you of any areas of concern. If there are no major issues, then I recommend enrolling in an annual maintenance program, where an expert roofer will clean your gutters and inspect your roof annually. Regular service and inspections will ensure your roof lasts for many years to come.
If you plan to move and sell your home soon and your roof looks old or is damaged, you may find that a potential buyer will want you to drop the price of your home significantly. You may even have a hard time selling your home if the roof looks ugly. In this scenario replacing the roof can be the best option. Your home will have a significantly better curb appeal and according to remodeling magazine cost vs. value you should expect to recoup 68% of your investment as retained equity or resale value.
How do I budget for this?
Sometime a roof replacement just isn't in the budget. If a roof replacement is not possible today, your roofer should be able to help you with some band-aid repairs until you are ready to replace your roof.
Should I Have My Roof Repaired
The most cost-effective solution for roof problems is to have them repaired. Issues that are left to fester only get worse over time and cost more money to repair when you replace your roof. Things like interior mold, wood rot, plywood de-lamination and structural problems must all be addressed eventually. It's best to avoid these situations altogether by properly maintaining and servicing minor repairable issues as they arise.
You will want to consider roof repair if your home has any of the following:
Pipe Boot Leaks
Chimney Leaks
Missing or Torn Shingles
Nail Pops
Fascia Damage
Penetrations and Holes
Cracking and Blistering
Poor Installation
Tree Damage
Storm Damage
Granule Loss
Splitting
Shrinkage
Poor Maintenance
Improper Ventilation
Benefit of Roof Repairs
Repairing a roof is much less costly than replacing with a new roof.
It takes a lot less money to repair your roof than it does to replace it. Like a vehicle, some parts on your roof don't last as long as your roofing system does. Regular service is key.
Repairs will help to extend the life of your roof
Ask your roofer what types of preventative maintenance can be performed on your roof to keep it looking great and working properly. The right service plan can make your roof last a lot longer than it would otherwise.
Disadvantages of roof repairs
It's hard to match the color of old roof shingles
Due to heavy U.V. exposure the color of roof shingles fade over time. This makes it hard on your roofer to try to match the color of the shingle that is being replaced. Most of the time an exact match is just not possible. Unfortunately, this means that the repaired areas stick out like a sore thumb and can affect the curb appeal of your home.
Poor workmanship can lead to more problems
The most important day in the life of any roof is the day that it is installed or repaired, and the most important aspect of that day is who performs the work. Roofs are difficult to work on simply due to access issues and the physical demands it places on the technician. A handyman or DIY'er, with good intentions who isn't fully adept and lacks the proper tools and equipment oftentimes does more harm than good. I've seen more leaky flashing areas with flex seal sprayed on them than I care to remember.
Should I Have My Roof Replaced?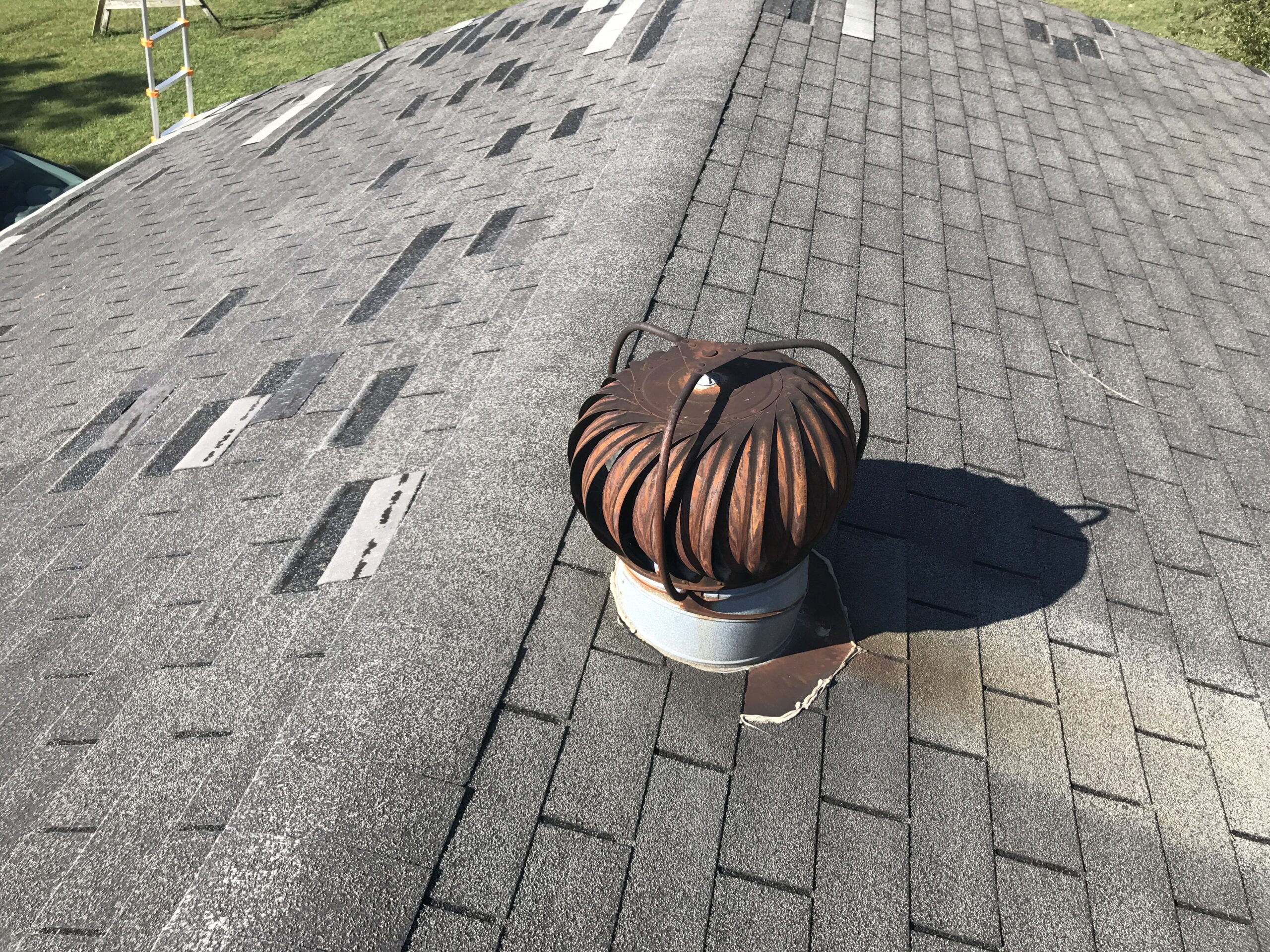 Improperly ventilation caused this area to fail prematurely. This roof is only 8 years old and must be replaced.
There are several factors that determine when your roof should be replaced, such as age and condition, improper installation, weather, and ventilation.
Benefits of a Roof Replacement
When you look at your home from the street – 40% of what you see is your roof. Getting a new roof can make a world of difference on the curb appeal of your house.
When you replace your roof, it makes the whole house look newer, fresher and cleaner. It makes your home the envy of the neighborhood, not to mention the fact that you won't need to worry about it again for many years.
A New Roof Will Give You Peace of Mind
When you have a brand-new roof on your home you don't worry about the weather anymore, especially when you are out of town. You'll have peace of mind knowing that mold and rot are things of the past.
Disadvantage of Roof Replacements  
Roof replacements can be very noisy
If you are going to be home during your roof replacement, you may want to invest in a good set of earplugs. We typically start very early in the day to make the best use of daylight hours. The tear off process is very noisy, but that's nothing compared to the constant thumping of hammers and nail guns all day nailing in new shingles. If you've ever heard a neighbor's roof being installed, you know the kind of noise I'm referring to and being inside the house as this is going on is a whole different level. I always recommend that my clients plan to be out during the day of the install.
You may want to remove your pets during your roof replacement
It makes sense that all the commotion during the day of the install is enough to drive anyone crazy, however an often-overlooked aspect is the impact this disruption can have on your pets. For my clients over the years, it seems that about half of them leave the pets home during the install and the other half send them to a pet sitter or have them boarded. Only you know the temperament of your pets, but I've heard of shell-shocked cats disappearing for days after an install. Dogs overall seem to move past it much more quickly.
Many roofing companies don't clean up very well after the work is done
At Liberty we acknowledge that we are in the home improvement business and therefore must leave your home in better condition than when we found it. Many companies fail to go the extra mile, they simply finish the install, put all their tools away, collect a check and drive off. What they fail to do is inspect their work and clean up their mess.
That final quality inspection and cleanup time are crucial and make the difference between a satisfied client and an irate homeowner. If the job site is not properly cleaned their will be trash, debris and nails strewn everywhere causing flat tires and even potential injuries for you, your family, pets and even neighbors.
It also makes your yard look very sloppy. If your roofer doesn't use tarps to protect your shrubs and landscaping not only are pieces of trash littering your lawn, but it's likely that your plants, shrubs, bushes trees and flowers will all have sustained some damage.
Buying a Roof is no fun
A new roof isn't all that glamorous. You won't be able to take it for a spin or play with it, much like other recreational purchases you invest in.
However, a roof is a core necessity. It's a great feeling knowing that you have solid protection for your home, your loved ones and all your possessions. It's also comforting to know that you have a warranty that will last decades to come and that your home looks much better.
What Should I Do Next?
Here's some stuff you should be thinking of before making a purchase decision.
One of the most important things you need to do is research.
Before inviting a roofing company to your home, research them well and know if they meet your criteria. Educate yourself on the basics of each aspect of roofing so that you can be prepared to interview the salesperson and ask all the right questions.
It's also a good idea to invest in your own education regarding your roof so that you will not be gas-lighted by a pushy salesman. You know what they say, "If nobody is the sucker, you are". Read the company's reviews and verify licensing and insurance. Don't let anybody sell you anything you don't want or need.
Get a Second Opinion
If a roofing company tells you that you must have a new roof installed, make appointments with one or two more companies that will also inspect your roof. It's not uncommon for homeowners to have multiple quotes from roofers who all say roof replacement is needed, when in fact a simple repair is all that is required. The truth is that most companies don't like to do repairs, because they are properly staffed for that type of work. Don't take the bait.
If each company returns to you with a different opinion of your roof, then stick with the company that has the best track record of great workmanship, honesty, and integrity, and after educating yourself – trust your gut. It's natural to feel some anxiety when repairing or replacing your roof, just be sure that you get what you pay for.
It shames me to say that my industry always ranks among the highest number of complaints filed with the Better Business Bureau each year. It's also shocking to know that over 50% of the people who had roofs replaced would not recommend the company they hired to friends or family.
Pick a local roofing company you trust
It's imperative that you trust the roofer that you choose. Take your time to find a local company that is the best fit for you. Not all roofing companies are insured, and it's not required by the States of North Carolina or South Carolina to be licensed.
So, make sure that the company you choose is licensed, bonded, and insured. Ask the right questions and become familiar with the contractor that will be performing the work on your home.
After all, your roof is protecting your largest investment as well as you, your family and all your possessions. Your roof is your homes first line of defense.
Ready for a repair or a replacement?
The only way to know what your roof needs is to have a certified roofing contractor perform a thorough inspection. Find a company that you can trust who will treat your fairly with honesty and integrity.
The team at Liberty Roofworks has been repairing and replacing all types of roofs in Charlotte since 2011. When you work with Liberty you get a lifetime warranty on our workmanship. If you're local to Charlotte, don't hesitate to contact us today for a roof assessment to learn exactly what your roof needs.