When it comes to commercial roofs they are flat most of the time. Flat roofs differ from traditional roofs with a regular slope or pitch. This means that different roofing materials are required, and they tend to be less heard of than more common options such as shingles. Traditional roofs are designed to allow water to run directly down them and safely to the ground away from the building. Flat roofs, however, do not have this ability and instead keep water pooled up on the roof for extended periods of time. Only certain types of roofing materials can withstand water like this without getting damaged or completely destroyed. Today we will be talking about two of the most popular commercial flat roof options available.
At Liberty Roofworks we believe that all home and business owners should have easy access to reliable and up-to-date roofing information. A lot of people put off having roof work done simply because they do not know much about it or even feel intimidated by it. That is why we created our Learning Hub, our blog where we post new roofing-related content every week on a variety of different sub-topics. When people are able to educate themselves on roofing they are better equipped to make the best decisions for their building and specific situation. It also helps with avoiding scams and knowing what red flags to look for when considering a new roofing company. Check out our Learning Hub today to learn even more about commercial roofing!
TPO Roofing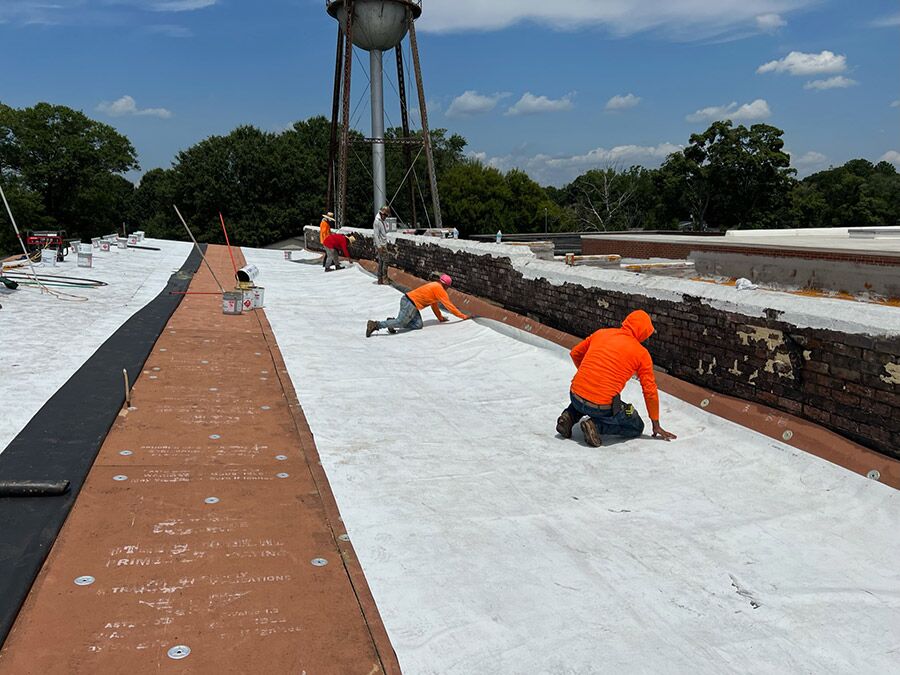 One of the most common and fastest-growing commercial flat roof options is TPO roofing. TPO stands for Thermoplastic Polyolefin which is a single-ply rubber roofing material. TPO roofs are installed in sheets that are measured to fit your roof and are attached together at the seams through the use of various adhesives. TPO roofs are unique because they help save money on energy bills due to their reflective qualities. This is especially great for businesses that require a very controlled climate.
TPO Roofing is hard to damage due to its flexibility and all in all it is incredibly strong. TPO roofs can last up to 30 years as long as they are properly installed and maintained. Speaking of maintenance, very little is required. The main thing to focus on is keeping the roof clean and free of debris as well as having routine inspections done, as you should with any roof. Overall, TPO roofs are reliable, solid, and definitely worth the investment when it comes to commercial buildings.
EPDM Roofing
EPDM roofs are another popular commercial flat roof option. EPDM stands for Ethylene Propylene Diene Monomer, another type of rubber-based roof that gets installed in sheets and attached at the seams. Both of these roofs do an amazing job of keeping water out of the building thanks to their heavy-duty seams and strong material.
Unlike TPO roofs, EPDM roofs are typically the color black when installed meaning it absorbs light rather than reflect it. This is great for businesses that require a warmer climate. However, if you want to go the EPDM route but have it be reflective, you can have a lighter coating installed on top of your roof to help you save on your energy bill. Unlike TPO roofs, EPDM roofs tend to have a longer lifespan and can last nearly 40 years before needing a replacement.
Wrapping it up
When it comes to commercial flat roofs, TPO and EPDM roofs are both amazing options. They are similar in a lot of ways and are both extremely durable. To know which option may be best for your specific needs, we suggest contacting a local and reputable roofing company to perform an inspection. They can then go over your options with you and offer up their personal opinions. We also suggest getting quotes from at least two different roofing companies before deciding to work with one.
Commercial roofs are an investment just like residential ones are, and you always want to make sure you are making the best investment for your needs. Finally, we suggest always working with a company that has experience installing TPO or EPDM roofs since this type of material requires a unique set of skills that not everyone may have. We hope that you now have a better idea about what the two most popular commercial flat roof options are right now.
We are here to help!
At Liberty Roofworks we know just how important a quality roof is to a business which is why we provide only the best roofing services. Our services range from repairs all the way to replacements and we even install solar panels. We are no strangers to TPO and EPDM roofing and we work on both commercial and residential buildings. No job is too big for us to take on, we got you covered.
Customer satisfaction is our main priority here at Liberty Roofworks. We always want our customers to feel comfortable talking to us, knowing that we are there to help. That is why we are always more than happy to answer any questions that may come up at any point in the roofing process. During jobs, we are sure to update the owners on how it is going as well as check in with them every day.
Liberty Roofworks is a family-owned and operated business that has over 20 years of professional roofing experience, and that number just keeps going up. We have proudly served all over the beautiful state of North Carolina and are always open to taking on new projects. We take what we do very seriously which is why we are very selective about who we hire to work on our roofs. All of our roofers are professionally trained, licensed, and insured.
If you or someone you know is in need of any roof work please contact us today! We will gladly send over one of our roofers to perform a thorough inspection and go over their findings with you as well as discuss what the next steps are. We work with our customers throughout the entire roofing process so that they are never left confused and in the dark. With us, roofing is easy!
Frequently Asked Questions about Commercial Flat Roof Options
We just threw a lot of information about commercial roofing at you and it is perfectly normal to have some questions. Here are some of the most frequently asked questions we receive along with our answers. If your question is still not answered please contact us and we will answer it personally for you. Also, remember to check out our Learning Hub for even more information about TPO and EPDM roofs!
Q: Can I walk on my TPO roof?
A: While you technically can, we advise against it. If you do need to walk on your TPO roof, be sure to wear soft-soled shoes that are clean to prevent dirt from sticking to your roof. We also suggest that you do not stand in one spot for an extended period of time as it is not good for the material. Overall, try to always leave walking on your roof to the professionals.
Q: Can I have my TPO roof recoated?
A: Yes! TPO roofs can be recoated when there is minimal damage present. This is a great alternative to a replacement and can save you a lot of money. It is important to note that not all damage can be recoated, sometimes there's just too much and a replacement is required. To find out if a recoating is right for you we suggest having a local and reputable roofer with TPO experience come out and take a look at your roof.
Q: Can I inspect my roof myself?
A: While it may seem tempting to inspect your own roof and save some money, it is never a good idea to do so. Roof inspections are crucial to keeping a roof in good condition and getting the most out of your investment. Professional roofers know what to look for when inspecting roofs and will find things that the untrained eye will easily overlook. A mistake like that can cost you lots of money down the line and lead to stress. It is always best to have a professional roofer perform any and all roof inspections.
Q: My roof is damaged, what do I do?
A: If you know for a fact that your roof is damaged the first thing you have to do is have a professional roofer come out and perform an inspection. They will then go over their findings as well as walk you through what your options are. Roof damage never comes at a good time, but it is so important that you address any damage right away. Roof damage only gets worse and when it gets worse it costs even more money to fix. Always take care of any amount of roof damage, even if it is just a tiny bit, right away to avoid any surprises down the line.