Roof inspections are extremely important for both commercial and residential roofs. They allow you to get a better understanding of your roof's current condition as well as find any damage early on before it gets out of hand. Inspections alone can save home and business owners a lot of money and save you a lot of stress. It is recommended that at least two routine roof inspections are done a year, but they can be scheduled however many times you feel is necessary. Today we will be covering commercial roof inspections, specifically the cost of them and what options are available.
At Liberty Roofworks we believe that all home and business owners should have easy access to reliable and up-to-date roofing information so that they can make the best-informed decisions for their roofs. That is why we created our Learning Hub, our blog where we post new roofing-related content every week on a variety of different sub-topics. Educating yourself on the world of roofing will not only help you make better choices for your roof, but it will also help prevent you from any scams. Check it out for yourself!
What impacts the price of a commercial roof inspection?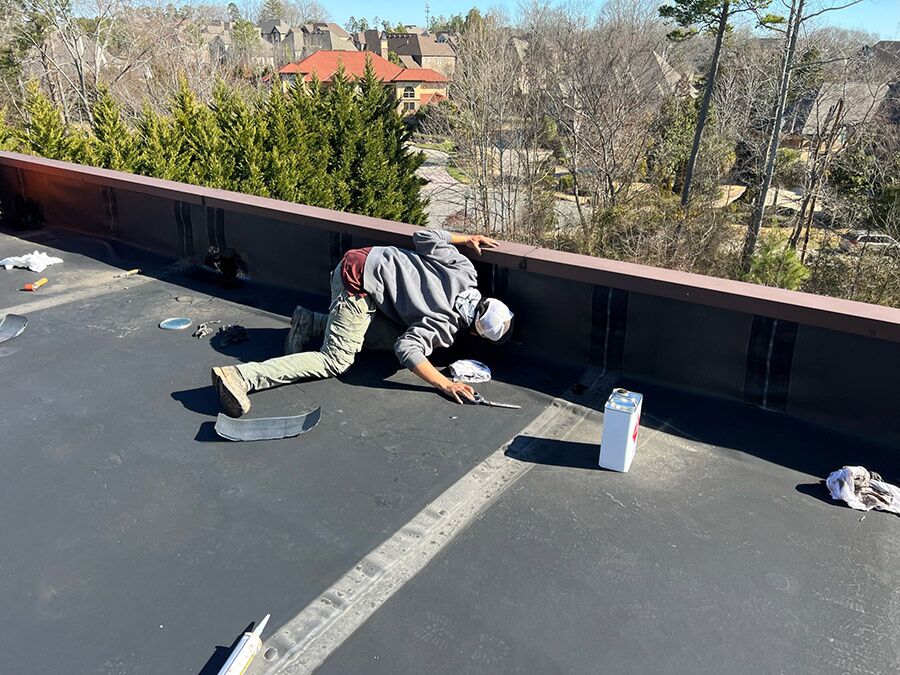 When it comes to roof inspections there is not one price that fits all. Each roof comes with its own unique set of differences and challenges which can impact the price you will be charged. Each roofing company may vary in the pricing slightly, so it is always best to reach out to companies directly for a quote.
One of the biggest factors is how old the roof is. Newer roofs, when installed professionally, tend to be in good or great condition and have fewer problem areas to be concerned about. This makes the inspection process go by a lot quicker as it is an easier job. The same thing goes for the condition of the roof currently. If you are having a new but storm-damaged roof inspected, for example, it is going to take longer to both document everything as well as discover what exactly the issues are and where they are.
Another factor that needs to be considered is how big your roof is. Smaller buildings require smaller roofs and therefore take less time to inspect while larger roofs require more time because there is more to cover. These are just a few things to keep in mind that can influence the cost of your building's roof inspection.
What roof inspection options are available?
There are multiple types of roof inspections available which can also impact the overall price. To know which roof inspection method is best for your roof we suggest speaking with a professional local roofing company and getting their opinions. Most of the time, however, a traditional physical inspection will do the trick.
The first and most well-known inspection option is a physical one. This means that a roofer will physically go up onto your roof and manually go over everything themselves. This is the cheapest roofing option and can typically cost as low as $70, but all companies may charge a bit differently. Physical roof inspections are best done on roofs that are in good to great condition and are still easy to walk on and safe.
Another roof inspection option available is an infrared inspection. This type of inspection tends to be the most expensive as it involves more technology and is unique to the others. Infrared roof inspections are done specifically to determine how much loss there is if any. Not only will it show heat loss, but it will also show you where exactly the heat is coming from so that you can address that area right away. This tool is especially beneficial for buildings in colder areas that value their heat more and for companies that require a specific environment inside for the business/product.
Infrared roof inspections rarely ever require the roofer to go to your roof directly. Instead, the thermal camera is attached to a drone and flown over the roof, allowing for views from all angles. The price for an inspection like this can oftentimes be seen starting at $400 due to the technology involved.
That takes us to the final inspection type, the drone roof inspection. This tends to be the middle price option averaging roughly $400 to do. Drone inspections are a great option for older roofs or roofs with enough damage that a physical inspection is not safe or worth it. The nice thing about drones is that the inspector never has to leave the ground and can instead see everything on their screen, even those hard-to-reach areas that can require awkward angles.
Always hire a professional
One of the most commonly asked questions we receive is, can I just inspect my roof myself and look for damage? Our answer to this is always the same. While technically yes you can get on your roof to attempt to perform an inspection, we strongly advise against doing that for two main reasons.
Most people think that inspecting their roofs themself is an easy way to save some money. While we understand how that can be tempting, it is not a good idea. First is the safety issues that come with this. Professional roofers are insured and protected should anything go wrong when up on a roof and they are used to being on roofs all day compared to the average home or business owner. It's not worth falling or injuring yourself.
Second is the fact that professionals know exactly what to look for and the average building owner does not. Someone who is completing their own roof inspection may walk up onto a roof and take a quick look around without seeing any damage. They then assume that their roof is fine and they wait another 6-12 months to do it all over again. This is a scary gamble to take as the untrained eye has no idea what exactly to look for when up on the roof.
So much damage can go unseen and can occur under the top layer of the roof. Professional roofers know all the problems to look for and can spot issues that you would have otherwise missed. Missing important damage can only cost you more money and trouble down the line since that damage will inevitably spread and continue to get worse. Overall, it is always much better to pay the extra money and have a professional inspect your roof both for safety and accuracy purposes.
Wrapping it up
Commercial roof inspections play a crucial role in preserving the life of a commercial roof. Remember to always have routine roof inspections done by a professional and local roofer in your area. With so many inspection options available today, there is something for every roof type and condition.
Regardless of if you own a home or a commercial building, this part remains the same. If any damage of any type is found during a roof inspection, get it fixed right away. We understand that it may seem easier to procrastinate, but in roofing, you need to be speedy. Failure to fix the damage will result in the damage spreading and costing more money to repair. Sometimes damage can spread too much and impact the decking or insulation. In those cases, what used to be a simple repair will now require a full replacement. Overall, always fix roof damage as soon as possible.
We hope that you have a better understanding of not only the importance of commercial roof inspections but also what inspection options are available as well as a general price range.
We are here to help!
At Liberty Roofworks we cannot stress the importance of routine roof inspections enough. With over 20 years of professional commercial and residential roofing under our belts, and that number keeps increasing. This family-owned and operated business is equipped to handle all types of roof inspections and can quickly adapt to any unique circumstances. We understand how important quality roof inspections are which is why we provide all of our customers with extremely thorough inspections and take the time to clearly discuss our findings with them.
Our roof inspections are so top-notch thanks to our team of extremely talented roofers. All of our roofers are professionally trained, licensed, and insured, ensuring that only the finest are working on your roof. Customer satisfaction is our top priority which is why we work hard to keep our customers updated throughout the entire roofing process. Whether you are having an inspection or a replacement, we will always go over each step with you and answer any questions you may have at any point in the process.
Are you in need of commercial roofing services? Whether you need an inspection or emergency repair, we got you covered. It's time to schedule your bi-annual roof inspection, contact us today to schedule a date and take the first step in preserving the lifespan of your roof. We are here to help!