The world of roofing can seem a bit confusing especially to the average homeowner with limited experience in that realm. Having regular inspections of your roof is important in both preserving your roof as well as knowing when it is time for a replacement. A roof replacement is not something that you want to put off. Neglecting to replace or repair a roof can lead to damage and possibly put you in an unsafe situation. The sooner you can replace an old roof or repair a damaged roof, the better.
Yes, getting a new roof installed can seem like an intimidating process for some. After all, a new roof is an investment and is not the cheapest home improvement. One of the first things you will want to do when looking at getting your roof replaced is to find a reputable roofing contractor to take a look at your current roof and provide you with an estimate. In fact, you may want to consider having a couple of reputable roofing contractors take a look and provide you with an estimate.
The estimate is where people start to get worried. How do I know if I'm being ripped off? How accurate is this estimate? Can I trust what this roofer is telling me? These are all questions that run through homeowners' heads and understandably so. This article is going to highlight some of the red flags to look out for in a roof estimate. Knowing what to look out for can help ease your mind and make the estimate process much easier.
Roof Estimate Only Providing a Price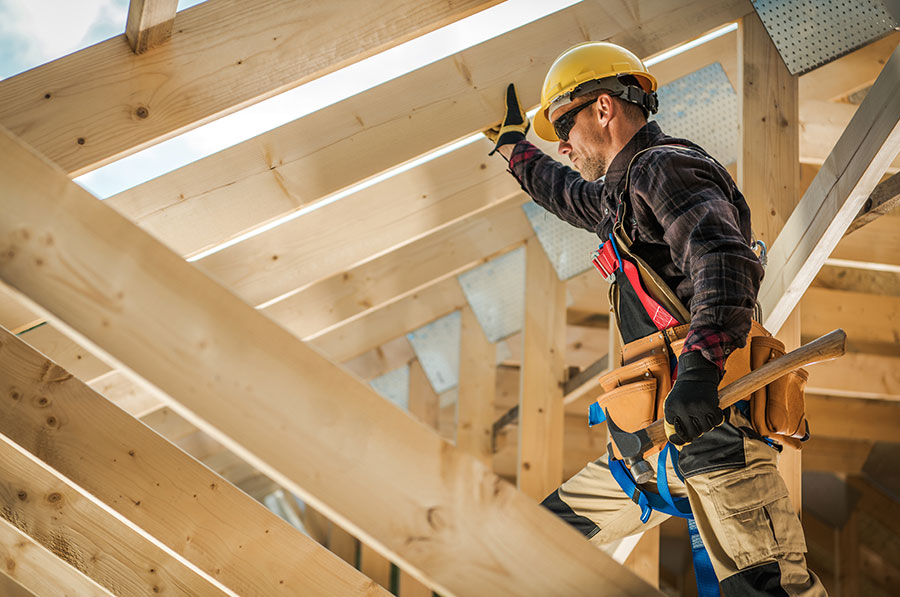 If you ever receive an estimate for a new roof that just includes the overall price, that is a huge red flag. Sadly, not all contractors are honest and there are people out there who will happily take advantage of people who don't know much about roofing. To be frank, when a roofer provides you with just the overall price, they are trying to take advantage of you.
When a roof is installed it is a big deal and when done correctly, can last up to 15+ years. Since a roof replacement is a big deal and you want it to last for a long time, it is important to use quality materials. It is very important that the price for these materials are clearly displayed in the provided estimate. In fact, the estimate should consist of anything and everything that goes into installing your new roof. Anything that will affect the cost of your new roof should be listed on the estimate given to you. As the customer you have the right to know exactly what you are paying for and how much everything costs individually. There is no reason to ever receive an overall price alone as an estimate.
No Warranty Information Included with the Roofing Estimate
Another red flag that you want to look out for is a roofing estimate that fails to include any warranty information. It is important that a roofing estimate includes two different types of warranties, one from the workmanship and one from the manufacturer of the roofing materials that was used. Different roofing companies offer different warranties. To get the best warranty, we suggest going with the company that offers a lifetime warranty or the longest one possible. 
Without a warranty being included you really are missing out. Having a new roof installed is already expensive enough. You want to be sure to get the most bang for your buck and having a warranty is just one way of doing that. 
The Roofing Contractor will Not Go Over Their Estimate with You
Most people who have little to no roofing experience will be understandably confused at a roofing estimate if one is just handed to them. Any good roofing contractor will take some time to go over the estimate with you so that you can understand it and can have any questions answered. Any roofer that fails to go over an estimate with you or answer your questions should be avoided as that is a huge red flag. A roofer is supposed to want to gain your trust and come across as experienced and professional, failing to go over an estimate is a poor way of doing that. If you do not feel like you have a complete understanding of the estimate given to you then either the roofer should work with you until you do, or you should move on to another company. As a client you should never be in the dark or left guessing what something means.
Hidden Fees
It may seem like a great idea to go with the roofing company that gives you the cheapest price, however, that is not always the smartest thing to do. A lot of times if the price seems too good to be true then it is. Oftentimes a lower than average estimate means that there are hidden fees involved somewhere. It is important to always know if there are any hidden fees as those costs can total up to be more than the price of a regular roofing estimate.
The quickest and easiest way to find out if there are any hidden fees is to ask other roofing companies for estimates and compare them to each other. The reason some roofing companies incorporate hidden fees into their jobs is that it allows them to keep their prices lower than competitors, resulting in more work from those who don't think about hidden fees. Ideally, go for a company that has no hidden fees at all, it is the best option.
What a Roofing Estimate Should Have
Now that we know more about roofing estimates and what to look out for as being a red flag, let's talk a bit about what should be included in a proper estimate. In a roofing estimate, you want to look for a full description of the work that will be done to your home. This includes any materials used down to the nail size. Each step needs to be clear and it's important it's all documented.
Another thing should be included is any and all contact information for the company that provided the estimate. It is important to have a way to easily reach out to the company to ask any questions about the estimate that may cross your mind after the initial meeting.
One last important thing to look for is proof of license as well as insurance. It is super important to only work with contractors that meet the qualifications of the area that they work in to avoid both a terrible job as well as risk for personal injury. Any contractor that fails to provide these things should be avoided.
Of course, it is important to include the things we talked about earlier as well. Never work with a contractor that has hidden fees, always be sure to go over the estimate you received with the contractor, and always be sure that warranty information is included in the estimate. It is also worth stressing again to never accept an estimate that only includes the overall price. You want to be sure that you have a list of every detail itemized and priced so that you know exactly what you are paying for and how much everything costs. This list should also include labor charges, permits, and even the cost of cleanup and removing the old roof.
We're Here to Help!
At Liberty Roofworks we do everything from roof repair to replacement and we would love to help you out with your next roofing project. We understand that client trust is important and client satisfaction is our number one priority. That is why we take our inspections and estimates very seriously. With us, you will never have to deal with only receiving a total price, not getting warranty information, or any hidden fees. We are sure to sit with each client and go over each estimate answering any questions or concerns there might be. With us, receiving an estimate is as hassle-free as possible. All of our roofers are licensed and certified with lots of experience in this field. Quality is guaranteed with us and that starts from the estimate all the way to the installation of your new roof.
If you are considering having your roof replaced, we would love to help. Contact us today with any questions you may have or to schedule an inspection to receive an estimate. We will be sure to go over all of your options as well as address any concerns you may have. We will also go over the estimate with you one on one so that you understand exactly what you are paying and what we will be doing. By the time we begin the installation, you as the customer will know exactly what is being done, when, and how much everything costs. Quality roofers are honest roofers. Give us a call to get started!